Books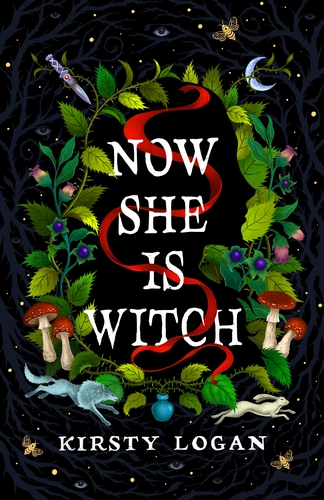 Now She Is Witch
Lux has lost everything when Else finds her, alone in the woods. Her family, her lover, her home – all burned. The world is suspicious of women like her. But Lux is cunning; she knows how to exploit people's expectations, how to blend into the background. And she knows a lot about poisons.
Else has not found Lux by accident. She needs her help to seek revenge against the man who wronged her, and together they pursue him north. But on their hunt they will uncover dark secrets that entangle them with dangerous adversaries.
From the snowy winter woods to the bright midnight sun; from lost and powerless to finding your path, Now She is Witch conjures a world of violence and beauty – a world where women grasp at power through witchcraft, sexuality and performance, and most of all through throwing each other to the wolves.
---
---
Reviews
Kirsty Logan's mesmerising and evocative novel represents an imaginative triumph in this new subgenre [of "witch lit"]… There are echoes of everything from the Brothers Grimm to Angela Carter in Logan's deceptively simple storytelling – Observer
Logan builds Lux's world with an eye for striking detail…the images snap and sizzle with portent and possibility – The Guardian
One of our national writing treasures, Kirsty Logan's latest tale is a deeply atmospheric, sometimes gory but ultimately uplifting… a story that will hold you tight and not let go – Stylist
An impassioned reclaiming of female desire. Stuffed, Russian-doll like, with stories…an absorbingly atmospheric adventure – Daily Mail
A dark conjuring of a book: angry, powerful, hypnotic, told in prose of dazzling power. – Kiran Millwood Hargrave
Beautiful……fierce and dream-like…powerful…compelling, haunting, and enriching – Scotsman
Powerful, imaginative, compelling – this is myth-making at its best. – Val McDermid
Spooky, timeless, feminist, inventive, unsettling… this book is every bit as atmospheric and compelling as you'd hope. – Viv Groskop
A hugely compelling book that seeks to rewrite what we think about witches. Dark, luscious prose wrapped around ideas that have enormous contemporary relevance. Kirsty Logan is at the height of her powers. – Heather Parry
Powerful, beautiful and deeply unsettling. The prose is magical. – Sally Magnusson