Books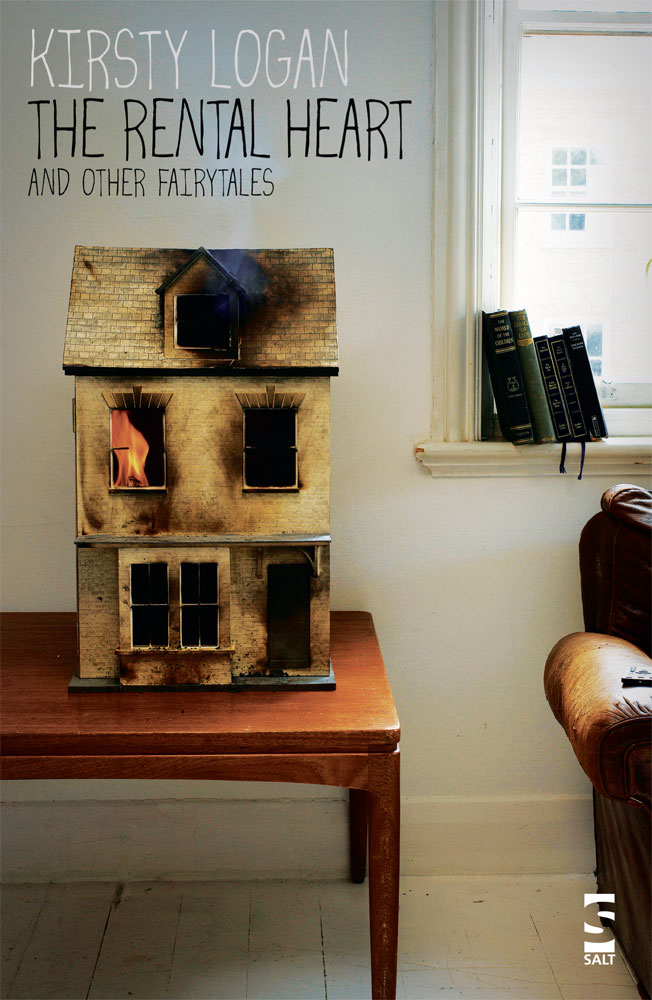 The Rental Heart & Other Fairytales
Salt, 2014
Twenty tales of lust and loss. These stories feature clockwork hearts, lascivious queens, paper men, island circuses, and a flooded world.
On the island of Skye, an antlered girl and a tiger-tailed boy resolve never to be friends – but can they resist their unique connection?
In an alternative 19th-century Paris, a love triangle emerges between a man, a woman, and a coin-operated boy.
A teenager deals with his sister's death by escaping from their tiny Scottish island – but will she let him leave?
In 1920s New Orleans, a young girl comes of age in her mother's brothel.
Some of these stories are radical retellings of classic tales, some are modern-day fables, but all explore substitutions for love, narrated with dreamy, dark language and vivid imagery.
The book will appeal to fans of dark, adult fairytale writers like Angela Carter, Kelly Link, Margo Lanagan, Eowyn Ivey's The Snow Child, Tea Obrecht's The Tiger's Wife, Lucy Wood's Diving Belles and Jess Richards' Snake Ropes.
For signed copies of The Rental Heart, please contact Waterstones Argyle Street on 0141 248 4814. Or if you are outside the UK, please email me: hello@kirstylogan.com
---
---
---
---
Reviews
"Logan is an exciting emerging voice, and The Rental Heart is an addictively enjoyable addition to the welcome resurgence of the short story. It displays an unexpectedly dizzying range of styles for a debut effort, putting Logan at the top of the "ones to watch" list. It's always exciting to see such a bold, fresh new talent." – Kaite Welsh, The Independent on Sunday
"…an alarmingly good short story collection: concise, vividly written and full of dark, arresting imagery." – The Herald
"Logan is very imaginative and very fertile. She's the kind of congenial spirit that one likes to be with as a reader…this is literature that creates a realm of understanding and mutual feeling that can build something." – Marina Warner
"There are few things in this world better than a carefully crafted short story. They never outstay their welcome; simply make their mark and leave you wanting more. Kirsty Logan's recent collection, The Rental Heart And Other Fairytales, is packed with prime examples of the form; memorable snapshots of lives less ordinary." – Scots Whay Hae!
"Kirsty Logan has been slated as a writer to watch. The stories within are inventive, beautiful, and shocking by turn, and the collection is one worthy of praise and awards." – Sabotage Reviews
"An assured collection which plays with the concept of the heart as a replaceable organ, and the effect variations in heart and character would have on human existence. A disorienting but fascinating collection of stories." – Saltire Society
"The first thing that hit me about the book was the number of unapologetically queer love stories, and to my delight, in particular queer love stories of women (which as far as I'm concerned are hard to come by)." – The Gay Agenda
"I'd highly recommend this collection of stories, even if you aren't usually a short story fan. I found myself absolutely captivated from the first line of delicate, descriptive prose and am already looking forward to curling up with it for a re-read." – Like A Skeleton Key
"The Rental Heart points to three characteristics that, to me, define Logan's collection as a whole: powerful use of language; the structures of fantasy and fairytale; and a concern with love in its various manifestations." – Shiny New Books
"Recommended for: Readers who enjoy magical realism and modern fairytales." – For Books' Sake
"Logan's occasionally surreal and gorgeous tales defy categorisation" – Twin Magazine
"A great book for those who want to experience a great example of modern literary artistry; if you want to broaden your horizons we dare you to give this collection a try." – So So Gay
"A thrilling walk through a brilliant mind, full of unexpected connections and utterly original leaps across voice, structure, genre. Truly anarchic artistically but always true emotionally, and delivered with the skill of a virtuoso. Read it in one sitting for the thrill then read it again for the smarts." – Bidisha
"Kirsty Logan is an exquisite writer who possesses the uncanny ability to make even the most mundane detail beautifully compelling. If you want to be captivated, if you want to be utterly taken, reach for this book and don't let go." – Roxane Gay
"A noteworthy, wonderful read. It's rare to come across such a strong, fresh voice but this truly is totally original stuff." – Adele Patrick, Glasgow Women's Library
"Every once in a while, one comes across a writer with talent so tangible that there's no question they could ever have been anything other than a storyteller. Kirsty Logan is one such writer. She proves herself masterful at creating nuanced characters in only a few pages with a writing style all her own." – BookTrust