Blog
Writing Spaces

19th Aug 2010 in Personal, Writing
I've tried desks. They don't work for me. I resist sitting down at the desk. I resist going to the desk. Sometimes I resist even going into the room where the desk is kept.
But I have a little white MacBook and the battery lasts for hours and so I carry it around the house with me. Portability means no excuses.
Say I spend the morning working at the kitchen table. By coffee-time (which, as you know, is around 11am) I'll decide that this cushion isn't soft enough and my bumcheeks hurt, or that the edge of the table is too sharp and my elbows hurt, or that the light is too dark and my eyes hurt. It would be very easy to stop at that point. To go and watch some daytime TV or vacuum the carpet or rearrange books for no apparent reason.
But the laptop can be in any room I am in, so I take it with me. I take it into the front room and write on the comfy library chair for an hour, then I take it into the bedroom and sit up in bed for an hour, and then I take it into my girlfriend Susie's studio and plug it into her giant graphic designer's computer screen and work on that for an hour.
When I'm writing I'm like a bratty toddler – the only way anything gets done is bribery, threats, and a desperate avoidance of boredom. By changing my surroundings and moving around my (rather small) flat, I manage to alter the scenery often enough that I don't get bored.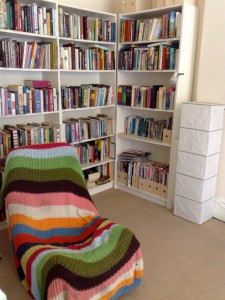 Picture #1 is the kitchen table. I usually start my day here because it's quiet and the table is big and I can make tea often. The right side (with the notebooks and paperbacks and empty cup) is my side and the left (the neat one with the fruit bowl) is Susie's. I feel that the neatness of our sides of the table serve as metaphors for our respective brains: hers is tidy and healthy, and mine is just a chaos of loose papers.
Picture #2 is the bed. I only work here during the day because Susie and I have a strict no-laptops-in-bed rule. It's nicest in the afternoon when the sun slants in and warms my feet. The obvious problem is nap temptation.
Picture #3 is the library area in the front room. It's good to work here in the evening because the lamp gives a soft glow and being surrounded by books always inspires me. I can also use them as bribery: "Edit another 500 words and you can read something!"
Writers and creative people, do you work all over the place like me? Or do you have a dedicated workspace? Show me!