Blog
Top 3 Unconventional Projects

6th Mar 2011 in Writing
It's always exciting to have a piece of writing in an anthology or literary magazine, whether in print or online. But I've also been involved in some fun and inspirational projects that were a little more unconventional. These are my favourites.
#1. Abe's Penny
Abe's Penny is an art project and literary magazine in the form of postcards. The editors, Anna and Tess, pair up writers and artists to create four postcards that are sent out to subscribers – four postcards make one story, so there's a new story every month. I was paired up with Australian photographer Graham Miller, whose photographs are a beautiful exploration of loneliness and landscapes. Here are two of the photos I was sent: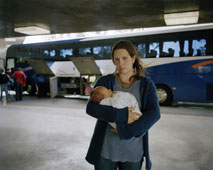 It seemed to me that the photos had a clear narrative through them, and I imagined the people in the photos all being part of one family – three different generations, the changes they'd gone through, and the things they never managed to say. I wrote the story as if each postcard was written by the person in the photo. Here's one of them:
Before taking part in this project, I had never written stories to go with photographs, and I had never written a story in four stand-alone parts. It was a great experience and I'm so proud of the result.
---
#2. likestarlings
likestarlings pairs up writers so that they can have a conversation in poems. Each pair produces five poems in total – three from one poet, two from the other – with each poem written as a response to the previous one. I was paired with George Ttouli, an English poet. Our conversation began with my poem 'homemakers':
we will build
we will build a house
of stone or pine or ice
or whatever they will let us have
whatever they do not want.
the heat between us will
melt the house
burn the house.
we will warm each other
together on the forest floor.
we will build ourselves on the forest floor.
after they take everything
we will have what we built.
You can read the rest of the poem-conversation here.
---
#3. Triangle
The Triangle project was a collaboration between writers, musicians and artists. For the print part, 41 authors wrote interlinked pieces inspired by one another in a triangle form. It's based on theories of OuLiPo so the methodology is a bit complicated, but there's an explanation of how it worked here.
I wrote about breakups and body-mods, mainly because I have a bunch of tattoos and I'd just broken up with someone. Here is my piece. The formatting is a bit weird, so in case it doesn't show up here is a sideways photo of it from the print version:
How about you, writers and readers? What are your favourite unusual writing projects?