Blog
Top 10 (Alternative) Beach Reads

4th Jul 2016 in Books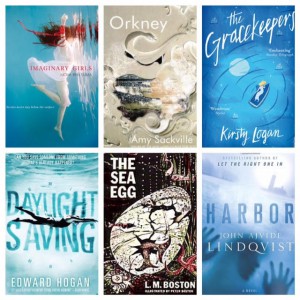 Want to read something water-themed on your summer holiday but still stick to your creepy, fabulist, witchy-dark bones? You've come to the right place.
Orkney, Amy Sackville – An ageing literature professor honeymoons on Orkney with his much younger wife. He's studying enchantment narratives about strange girls and women, and soon his research bleeds into his obsession with his mysterious new wife.
Becoming Bone, Annie Boutelle – A biography-in-poems about Celia Thaxter, from her childhood on the stark islands off the New Hampshire coast to her adulthood as one of America's most popular poets, now mostly forgotten.
Blue Girl, Laurie Foos – This short magical realist novel set in a small lakeside town is weird and sad and beautiful. One of my favourites.
Harbour, John Ajvide Lindqvist – Swedish horror/thriller about a missing girl and her haunted father. It's bonkers, bizarre and rambling, but oddly compelling with some genuinely scary scenes that still stay with me. Also provided the epigram for my next novel: "We no longer give people to the sea, but it takes them anyway."
Lost Paradise, Kathy Marks – In 2004, charges of sexual assault were made against 13 men from Pitcairn, a remote volcanic island in the southern Pacific, so sparsely populated that these men made up a third of the male population. This non-fiction book is a little trashy, but it's a dark and fascinating story.
The Sea Egg, L.M. Boston – One of my favourite things about pre-1980s children's books is how dreamy and weird they can be. As well as being deceptively creepy, this has such luscious prose: "Then all was quiet, except for that murmurous half telling, half withholding of tremendous secrets that the sea would keep up all night."
Daylight Saving, Edward Hogan – An awkward teenage boy becomes obsessed with a girl he sees swimming in the lake at a depressing holiday camp. It's all underwater shadows and ticking clocks and dark shapes flickering through the trees.
The Black Tongue, Marko Hautala – Finnish horror where something horrible lurks in the depths of an abandoned lighthouse. I read this in Finland just before swimming in a huge, freezing, pitch-black lake, and spent the whole time convinced that a witch was going to bite off my feet.
Imaginary Girls, Nova Ren Suma – Drowned girls who then appear alive again in a mysterious lakeside town. I can never get enough beautifully-written magical realist YA.
The Gracekeepers, Kirsty Logan – Eh, you know. Pretty fond of this book.
What are your favourite alternative beach reads?