Blog
Thievery: Jonathan Pinnock

8th Nov 2012 in Guest Post, Thievery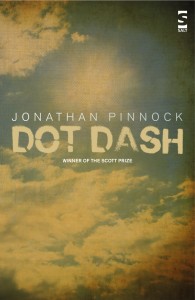 Thievery is a series of blog posts about my story inspirations.
One Thursday per month, I invite my favourite writers to share the inspirations behind their stories. Here's one from the multitalented Jonathan Pinnock.
The Story:
'The Birdman of Farringdon Road' was published online and in print in Litro 84, and in also in the new collection Dot Dash (Salt Publishing).
An extract:
"So what… I mean… how…" It's not always easy to open the conversation with a beggar. But he understood what I was asking.
"You may not believe it looking at me now," he began, "But I went to university once. Studied zoology."
"Really?" I said.
"Yeah. But after I flunked out, the only job I could get was as a zookeeper."
"Well, at least you still managed to work with animals," I said, trying to sound positive.
"Hah. Have you ever considered how much shit they produce?"
"No," I replied, truthfully. "Rather a lot, I imagine."
"Rather a lot," he said, "Rather a lot."
The Inspiration:
'The Birdman of Farringdon Road' is the story of an office worker who is trying to ascend the greasy pole of management by whatever means. One morning he falls into conversation with a beggar who seems to have a magical gift that he can turn to his advantage. Inevitably, this gift turns out to be double-edged, with disastrous consequences. It's essentially a modern-day fable about corporate venality and incompetence.
It's actually quite a rare event for an idea of a story to arrive fully-formed in my head. Usually it starts with some kind of a prompt that dredges up something from my subconscious in order to make the various bits fit together. In this case, the prompt (for a competition in fact) was "write a story including a bucket, a feather and an apple".
The bucket made me think of something a beggar might put out to solicit contributions and that in turn required a protagonist who was somehow interacting with him. The feather was the trigger to take the story into slightly weirder territory, as it gave the opportunity for the beggar to demonstrate his ability to "see" what kind of an animal the protagonist really was.
This was the cue for the protagonist to see what profit he can make out of this – and also a chance for a bit of comedy as the beggar analyses each of the other customers in turn. I quite liked the idea of introducing manatees and penguins into the story.
From then on, the story rolls on towards its inevitable conclusion. The apple part of the prompt disappeared in the second draft of the story, incidentally – although you're welcome to see if you can work out where it was.
To me, the interesting part of this is that if I'd set out to write a story about management bollocks, it would have been extremely dull. But because I started from trying to fit an odd set of initial prompts together, it made for a far more interesting proposition. And yes, the protagonist could have been me once, at least until I reached my level of incompetence and got found out. Which was, as things turned out, the best thing that ever happened to me.