Blog
Thievery: Shop Front

14th Aug 2014 in Guest Post, Thievery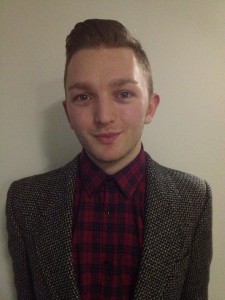 On Thursdays, I invite my favourite writers to share the inspirations behind their stories. Here's one from up-and-coming novelist Samuel Best.
The Story:
Shop Front was published by Fledgling Press this March.
An Extract:
"tanning salons, betting shops, offies, pubs, takeaways. That's all Scotland is now. A fuckin' wasteland, full of a few different ways to try and kill yourself, and who could fuckin' blame you? The only ones not sucking shite in the gutter are the ones like you, full of this pride for a country they still think is full of Jacobites and Rabbie Burns and Walter Scott, but it's not. There's fuck all here except pride and dickheads."
The Inspiration:
Shop Front was written shortly after I graduated university into a brief-yet-vast chasm of unemployment. I began to work on a series of stories about someone in that same position who ends up moving back to the small town he comes from and taking a job he considers beneath him. Gradually those stories worked their way into a proper narrative and Ben found himself elbow deep in till roll, gang crime and testicular cancer scares. I like to think I was giving him such a tough time in the hope that I wouldn't end up getting chased through moonlit parks by gangs of knife-wielding thugs myself, and so far it's worked.
I've heard people say that Shop Front deals with these big issues like nationhood, masculinity, and employment, but really I wrote it because I'd never read anything that came close to the world I grew up in. The closest I'd ever found was Alan Bissett's Boyracers, and even that was set in working-class Falkirk, a world I know nothing about. Shop Front was the desire to see a middle-class Scottish town represented with all of its pros and cons. Linlithgow, where the novel is set, is full of beautiful history and stunning architecture and it's a wonderful little town, but I also remember growing up with drug raids and stabbings on the High Street, with people throwing themselves in front of trains and drowning themselves in the loch. Like everywhere, it has a darker side and that really suited Ben's story.
The writing itself is very fast and choppy and you're in Ben's head all the way through as he drops references to books he studied at uni or tries to work out how Hamlet would handle getting jumped. Shop Front is very different to my shorter fiction, which tends to be much more relaxed and dreamy and certainly not as dark or funny. I like to tell people that ultimately it's a black comedy about cancer, kitchen knives and P45s but that usually gets me some funny looks. Seriously, though, if you've ever found yourself wondering if you're on the right career path, or you've found something that feels strange in the shower, or you've had someone pull a paring knife on you in your local, you'll love it.
—
Shop Front is published by Fledgling Press.