Blog
Thievery: Apocalyptic Montessa and Nuclear Lulu

3rd Apr 2014 in Guest Post, Thievery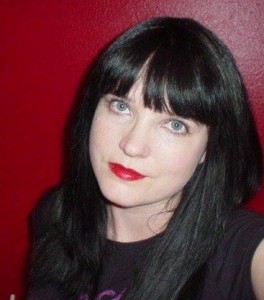 Thievery is a series of blog posts about story inspirations.
On Thursdays, I invite my favourite writers to share the inspirations behind their stories. Here's one from glam mama Mercedes M. Yardley.
The Story:
Apocalyptic Montessa and Nuclear Lulu: A Tale of Atomic Love was published by Ragnarok.
An Extract:
The inside of his skull, it tasted like roses and barbed wire and butterflies. Switchblades and heroin and grassy green gardens.
"You're not a monster," she said, and stood up on tiptoe to kiss him. He caught his breath, then kissed and bit her lip. Twined his arms around her. Pulled her against his body and prayed and prayed and prayed to gods he didn't believe in that this wasn't a dream, that he wasn't somewhere sleeping the glutted slumber of a man who just corpsed a pretty girl. The darkest of afterglows. An afterdark.
The Inspiration:
The concept of soul mates is everywhere. Most people seem to believe in them, whether they'll openly admit it or not, and quite frankly, I wanted to see if I could turn the typical sunny soul mate stereotype on its head. Apocalyptic Montessa was very much inspired by Bonnie and Clyde. Bonnie was a tiny girl with no criminal record and a husband when she met Clyde Barrow. That's completely opposite of who I always imagined she had been. My goal with this novella was twofold: I was intrigued by the concept of soul mates who, when they get together, cause chaos and harm rather than this ephemeral joy that we tend to hear about. Could their personalities change that much? What would they do for each other? Would one of them, especially a broken wisp of a woman, change so much that she could actually become a predator?
I also wanted to see if I could make serial killers sympathetic. People who do terrible, terrible things, but have their paths be familiar enough that their choices might almost be understandable. I want the reader to say, "There but for the grace of God go I." It was a challenge, but I think it turned out fairly successfully.
Apocalyptic Montessa and Nuclear Lulu: A Tale of Atomic Love came out in September of 2013. It's only been out for a short while, but it received the Reddit Stabby Award for Best Short Fiction of 2013. I've also received the most humbling, gratifying emails that I've ever read. People have written to say that they identify with Montessa and her background, or that Lu resonates with them. The word "healing" showed up a number of times, and I'm so honored by that.
It goes to show that characters, no matter how extreme, can be relatable on a personal level, and that if we craft carefully enough, even the most despicable characters can have true worth.
—
Get 'Apocalyptic Montessa and Nuclear Lulu: A Tale of Atomic Love' from Ragnarok.