Blog
May/June 2018 Reads

3rd Jul 2018 in Books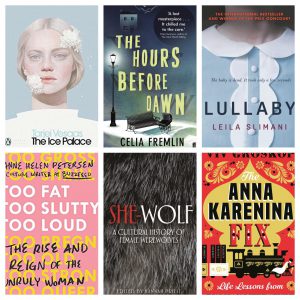 I've absolutely devoured books over the past two months – 47 of them, to be exact! Quite a few were non-fiction books as research for my next book, and a few more were Point Horror re-reads for my new podcast, Teenage Scream. Luckily I did have time to read some quality fiction and non-fiction among all that. And, just like last month, it's an almost entirely female list!
Why I'm No Longer Talking to White People About Race, Reni Eddo-Lodge – Vital reading for every single person in the UK (and elsewhere). Even if white people like to think we're woke, there's so much we don't know. Reading this is Step 1 in our education. I wish it had been longer, but I will consider it a starter book for further reading.
The Hours Before Dawn, Celia Fremlin – This book was an unexpected delight. I'd never heard of the book or the author, but I saw it in the library and liked the title so gave it a go. It was claustrophobic and stifling and tense, while also being quite slow-paced and immersive. Not much happens plot-wise, but it does examine new motherhood and the weight of domesticity really well. Also the prose is beautiful. I'd love to read more Celia Fremlin novels.
The Anna Karenina Fix, Viv Groskop – I loved this book. It manages to be intelligent, inspiring and funny all at the same time, while also making me want to read Russian novels.
Brave, Rose McGowan – A quick, brutal, inspiring read.
Too Fat, Too Slutty, Too Loud, Anne Helen Petersen – I seem to be going through all the feminism pop culture essay books. Just can't get enough of them. There's some really interesting stuff here on Serena Williams, Nicki Minaj and Hillary Clinton in particular. Also made me think more deeply about Caitlin Jenner, Lena Dunham and Kim Kardashian, which is a sentence I didn't think I'd ever write.
She-Wolf: A Cultural History of Female Werewolves – Hannah Priest (editor) – This one was for novel research, but I also enjoyed it just as a reader. I devoured it over a wonderful afternoon spend at the Wellcome Collection library, one of my favourite places to read.
Lullaby, Leïla Slimani (translated by Sam Taylor) – A tense and beautifully-written domestic thriller that really digs down into issues of class and money.
La Grande Thérèse, Hilary Spurling – I loved this non-fiction story and immediately want to write a novel about it. The length was perfect, in my opinion – I find many books to be longer than they need to be, but I breezed through this one in an hour while having a coffee. This book provides a well-written and well-researched overview of a fascinating story. I wish more books had this wealth of detail and economy of story.
The Ice Palace, Tarjei Vesaas (translated by Elizabeth Rokkan) – A strange, sparse and atmospheric novel. I'm not sure I entirely understood it, but it's been creeping around in my mind and I can't seem to shake it.
Want to keep up with what I'm reading? Follow me on GoodReads. 
What are the best books you've read recently?