Blog
March-April 2021 Reads

5th May 2021 in Books, News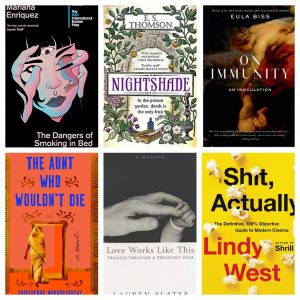 I don't know about you, but I've been struggling to get my reading groove back. This is partly due to bad reasons (pandemic stress) and partly due to good ones (finishing final edits on a new novel). Thankfully I still read some absolute brilliance, and I highly recommend my top six of March and April:
On Immunity, Eula Biss – It's a strange experience reading this during a pandemic, surrounded by vaccine news. It's a thoughtful, informative exploration, and I'm still thinking about it weeks later.
The Dangers of Smoking in Bed, Mariana Enriquez – Rotting little ghosts, heartbeat fetishes, curses and witches and meat: each of these stories is a luscious, bewitching nightmare. Each one builds up a steady, thrilling dread—until the final lines, when the true horror is revealed. I adore this book.
The Aunt Who Wouldn't Die,  Shirshendu Mukhopadhyay – I only borrowed this from the library as it was short and I was intrigued by the title and cover. I expected something light and darkly funny – and while it does have dark humour, it's a lot more complex than I anticipated. Despite the short page count, somehow this had the feel of a multigenerational epic. All the characters felt so real, and I loved the angry, foul-mouthed ghost.

Love Works Like This, Lauren Slater – It's such a treat to find such an honest and raw memoir, and I found this one about ambivalent motherhood fascinating.
Nightshade, E.S. Thomson – I love this series about a queer woman living as a man in Victorian London so that she can continue her work as a pharmacist – and solve murders, of course.
Shit, Actually, Lindy West – You've probably read Lindy West's scathing and hilarious analysis of 'Love, Actually' (if not, get on it), and I'm pleased to report that the rest of the movie analyses in this book are equally funny and equally scathing.
Want to keep up with what I'm reading? Follow me on GoodReads.
What are the best books you've read recently?