Blog
July/August 2018 Reads

30th Aug 2018 in Books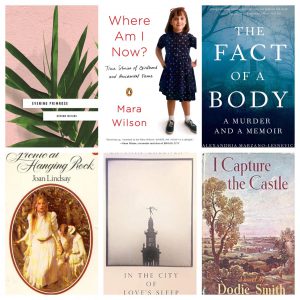 July and August were very different months, reading-wise. July was mostly holiday, where I spent the whole time in the pool on a mermaid float, drifting under the sun with my biggest sunglasses and a series of paperbacks. August was the Edinburgh International Book Festival, where I did this sold-out event with Imogen Hermes Gowar, as well as chairing five other events; that involved a lot of preparatory reading, chatting, and getting trains between Glasgow and Edinburgh (bonus reading time). So here were my favourites from the last two months:
The Bucket, Alan Ahlberg – I loved this charming, nostalgic mix of essay and poetry recalling a particular sort of English childhood. The last page brought me to tears. Allan Ahlberg is such a gem.
In the City of Love's Sleep, Lavinia Greenlaw – This book took me by surprise. I didn't think I'd like it ('well-off middle-class people being vaguely unhappy' is my least favourite genre), but it's so beautifully written and observed that I was absorbed. My copy of this is full of underlinings.
Picnic at Hanging Rock, Joan Lindsay – Dreamy, atmospheric, shocking at times. The mystery was frustratingly vague but I suppose that's not really the point of it. This is the sort of book you exist inside.
The Fact of a Body, Alexandria Marzano-Lesnevitch – Heart-breaking, thought-provoking, and beautifully written; true crime at its most necessary. I'll read absolutely anything Marzano-Lesnevich writes in the future.
Evening Primrose, Kopano Matlwa – An absolute gut-punch of a book, in the best possible way. It's very short, but has so much power in its few pages. And I'm still thinking about the last line.
I Capture the Castle, Dodie Smith – Strangely, what I loved about this was how vague it is. There's no real plot arc, no clear character progression, no one is redeemed and very few of the characters learn anything. And yet it's so charming and immersive.
Where Am I Now?, Mara Wilson – What a joy this book was. I read it floating around in a swimming pool under the summer sun and it was such a happy day. I wouldn't usually be into 'celeb' books but this is a smart, sweet essay collection that does touch on fame and Hollywood, but is largely about what it's like to grow up the neurotic, brainy weird kid (hard relate). I defy anyone to read this and not want to immediately be besties with Mara Wilson.
Doctor Who: The Day She Saved the Doctor, Susan Calman, Jacqueline Rayner, Jenny T. Colgan, Dorothy Koomson – Bit of a wildcard here. I've never seen Doctor Who, and I don't really know anything about it (except tardises and daleks and a guy in a long scarf). But I have a thing about reading additional content around media I don't know, like novelisations of games I haven't played or fanfiction about TV shows I haven't seen, so I thought I'd give this a go. I have no idea how true it is to the TV show, but I enjoyed all the stories: creepy endless mazes, blinding curses in Ancient Rome, and a body snatcher. Jenny T. Colgan's story set in 1812 Russia and 2005 Toronto was my favourite.
Want to keep up with what I'm reading? Follow me on GoodReads. 
What are the best books you've read recently?