Blog
January/February Reads

29th Feb 2016 in Books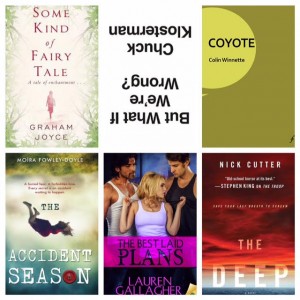 January and February are always big reading months for me. Blame the terrible weather and general post-festive blah, but all I want to do is escape into new worlds. For 2016, I decided to branch out and try new genres. So far I've read literary fiction, children's novels, romance, horror, magical realism, nature non-fiction, memoir and essays. Here are my favourites of the year so far:
The Deep, Nick Cutter – The perfect horror novel for claustrophobics, Event Horizon meets Stephen King's It.
The Accident Season, Moïra Fowley-Doyle – This magical realist young adult novel is atmospheric, vivid, poetically-written, and just the right amount of weird.
Best Laid Plans, Lauren Gallagher – This was my first proper romance novel, and I loved it. It's romantic and hot (which is what you want in a romance, really), as well as considering serious issues in a thoughtful way (Islamophobia, non-traditional relationships), and presenting sexuality as a spectrum rather than a strict binary.
Some Kind of Fairy Tale, Graham Joyce – Fantasy meets reality when Tara goes missing for twenty years, then reappears claiming she's been in fairyland the whole time. I can't get enough of books that mix realism and magic.
But What If We're Wrong?, Chuck Klosterman – Entertaining and thought-provoking. Klosterman asks how we will value and think of today's arts in the future.
Coyote, Colin Winnette – A big subject (the loss of a child) handled beautifully in a small book (96 pages of tight, precise prose).
What are the best books you've read so far this year?