Blog
Best Books of 2021

31st Dec 2021 in Books, News
I read a bunch of books in 2021. Not as many as last year, but probably more than next year (as I now have a baby, a book out in January, and two more to write). I also read advance copies of novels by Heather Parry, Camilla Grudova and Julia Armfield: all due out in 2022, and all highly recommended.
Here are my top 25 books of 2021:
Books out in 2021: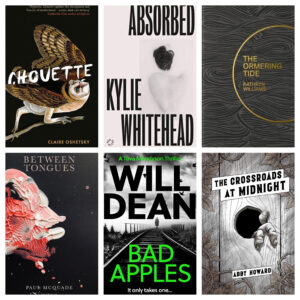 Best book that was so beautifully written I copied my favourite bits into a notebook: The Ormering Tide, Kathryn Williams
Best magical-realist horror about pregnancy and parenthood: Chouette, Claire Oshetsky
Best book that (surprisingly) lived up to its odd premise: Absorbed, Kylie Whitehead
Best short stories about language, queerness and homesickness: Between Tongues, Paul McQuade
Best Halloween vibes: Bad Apples, Will Dean
Best poetry collection about grief and queerness: Butcher, Natasha T. Miller
Best horror graphic novel: The Crossroads at Midnight, Abby Howard
Best book that convinced me of things I didn't know I needed to know (but I'm glad I now do): Laziness Does Not Exist, Devon Price
Books Out Before 2021:
Best kids' book I initially read for nostalgia but then as a metaphor for finding a queer community: Moominland Midwinter, Tove Jansson
Best re-read that makes me want to stop writing because it's too good: Fingersmith, Sarah Waters
Best horror sci-fi novella: The Employees, Olga Ravn (translated by Martin Aitken)
Best thriller set in the world of filmmaking: Pretty As A Picture, Elizabeth Little
Best book about the power of stories: True Story, Kate Reed Petty
Best queer classic: The Love of Good Women, Isabel Miller
Best dark, weird, beautiful poetry inspired by Scottish folklore: Grimoire, Robin Robertson
Best book about internet linguistics which is way more fun and interesting than that sounds: Because Internet, Gretchen McCulloch
Best feminist analysis of horror: Dead Blondes and Bad Mothers, Sady Doyle
Best smart analysis of true crime: Savage Appetites, Rachel Munroe
Best mix of horror film analysis and confessional memoir: House of Psychotic Women, Kier-La Janisse
Best non-fiction written years ago but eerily relevant to now: On Immunity, Eula Biss
Best creative, experimental book about trauma: Notes Made While Falling, Jenn Ashworth
Best book about insomnia I read while feeding a baby at 4am: The Shapeless Unease, Samantha Harvey
Best book that got me out of a reading slump: Shit, Actually, Lindy West
Best folklore-inspired graphic novel set in 1930s Spain: Tales of the Mist, Laura Suárez
Best absolutely batshit 90s horror series read for Teenage Scream podcast: Fear Street Cheerleaders: The First Evil, R.L. Stine
What were your favourite books of 2020?
Want to keep up with what I'm reading? Follow me on GoodReads.