Blog
Best Books of 2019

2nd Jan 2020 in Books, News
What a year of reading! I've read some truly excellent, immersive, strange fiction. Some sexy, witchy, chant-worthy poetry. Some challenging and confronting non-fiction. Some unexpected and beautiful graphic novels. It's been a great year of reading, and I can't wait to see what fantastical worlds and delicious prose 2020 brings!
In total I read 237 books in 2019. Compared to last year, I read about the same amount of short story collections (31), poetry collections/pamphlets (12), graphic novels (23) and young adult/kids' books (50). But I read a lot more novels/novellas (91, compared to only 63 last year) and a lot less non-fiction (30, compared to 85 last year). This is because last year I was researching a novel, so I read a lot (like, really a lot) of books about witches, the middle ages, northern myth, etc. I've been writing hard on that this year, so expect that in… late 2021 maybe? Writing is slow. This year I got to read a lot more for fun, and I also leaned into genre, reading types of books I don't often pick up, like harder sci-fi, Mills & Boon romances, and translated graphic novels, all of which lead to some wonderful surprises.
In no particular order, here is my Top 40 of the year:
Books out in 2019: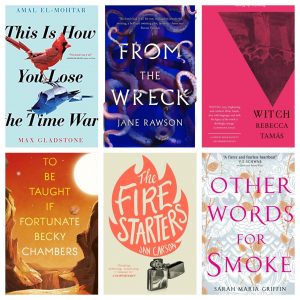 Best Weird, Dark, Witchy Poems That I Want to Tattoo on My Heart: Witch, Rebecca Tamás
Best Queer Epistolary Spec-Fic Novella About Two Ungendered People Time-Travelling and Falling in Doomed Love: This Is How You Lose the Time War, Amal El-Mohtar & Max Gladstone
Best Impossible-to-Adequately Describe Book Featuring a Maybe Alien Maybe Sea-Witch: From the Wreck, Jane Rawson
Best Book About People Doing Terrible Things for Good Reasons and Good Things for Terrible Reasons: The Fire Starters, Jan Carson
Best Novella About Space That I Loved Even Though I Thought I Didn't Like Books About Space: To Be Taught, If Fortunate, Becky Chambers
Best Book Where a Teenage Girl Feeds Bones to an Owl in the Wallpaper: Other Words For Smoke, Sarah Maria Griffin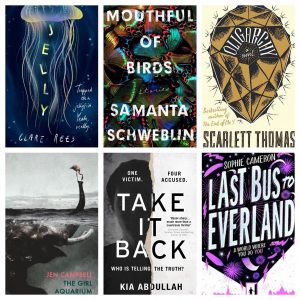 Best Debate-Worthy Crime Novel: Take It Back, Kia Abdullah
Best Beautifully-Observed Book About Adolescent Girls in a Dysfunctional, Confined Setting: Oligarchy, Scarlett Thomas
Best Short Stories That Articulate the Feeling of Having a Nightmare: Mouthful of Birds, Samanta Schweblin, Megan McDowell (translator)
Best Queer YA Novel That Seems to Be a Love Story But is Really About Loving Yourself: Last Bus to Everland, Sophie Cameron
Best Book That Leans Right into a Weird Premise With Excellent Results: Jelly, Clare Rees
Best Poetry Collection About Feminism, Fairytales and the Body: The Girl Aquarium, Jen Campbell
Best Feminist, Sex-Positive Poetry Collection Inspired by Tarot: Fool's Journey, Jane Flett
Best Graphic Novel About Murderous Teenage Girls Who Turn into Wild Cats: Man-Eaters #1, Chelsea Cain, Kate Niemczyk (illustrator) , Lia Miternique (illustrator)
Best Super-Cute, Super-Queer Graphic Novel: Laura Dean Keeps Breaking Up with Me, Mariko Tamaki, Rosemary Valero-O'Connell (illustrations)
Best Beautifully-Illustrated Book About Female Horror Writers: Monster, She Wrote: The Women Who Pioneered Horror and Speculative Fiction, Lisa Kröger & Melanie R. Anderson
Best-Worst Book for Claustrophobes: Underground: A Human History of the Worlds Beneath Our Feet, Will Hunt
Best Book That Answered a Question I Didn't Know I Wanted to Ask: An Ode to Darkness, Sigri Sandberg, Siân Mackie (translator)
Best Book That Should Be Assigned Reading: What We Talk About When We Talk about Rape, Sohaila Abdulali
I also had quite a lot of my own writing published in 2019 – I haven't included them as part of my top 40, but I'd like to give them a shout-out here, because I worked hard on them and I'm proud of them!
The first is Things We Say in the Dark, my fifth book, a collection of feminist horror stories. I put my whole heart into this book and I think it's the best, rawest and strangest thing I've ever written. It was reviewed in all the major papers (they even said nice things), a TV option was sold to Hollywood, and stories from it were published in many places and broadcast on the radio. It's been a joy to see it popping up on so many people's books of the year lists. Thank you to everyone who bought it, read it, talked about it, recommended it, came to hear me read from it, or even just didn't get sick of me waffling on about it.
I was a part of a few brilliant anthologies and magazines this year – the editors all did brilliant work, and it was an honour to be published alongside so many talented writers.
Best Audio-Only Feminist Retellings of Fairytales: Hag, edited by Thomas Curry & Harriet Poland (contains my story 'Between Sea and Sky', about a forensic archaeologist who gives birth to a half-selkie baby while investigating old burials in a small town)
Best LGBTQ+ Anthology: We Were Always Here, edited by Michael Lee Richardson & Ryan Vance (contains my story 'Stranger Blood is Sweeter', about an all-female fight club)
Best Anthology of Beautiful, Confronting Stories by Women Writers: Disturbing the Beast, edited by Nici West (contains my story 'Girls Are Always Hungry When All the Men Are Bite-Size', about a mother and daughter conducting fake seances)
Best Magazine of Weird-As-Fuck, Impossible-to-Forget Stories: Extra Teeth #1, edited by Heather Parry & Jules Danskin (contains my story 'Pig Tale', about a woman with a cannibal fetish who lusts after an ugly butcher)
Best Scottish Gothic: Haunted Voices, edited by Rebecca Wojturska (contains my story 'The Keep', a modern retelling of Bluebeard narrated by ghosts)
Books Out Before 2019: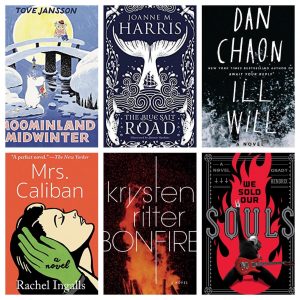 Best Book I Read During a Storm in Finland Before Wild-Swimming in a Lake: Moominland Midwinter, Tove Jansson
Best Book About a Woman Having an Affair with a Sea-Creature: Mrs Caliban, Rachel Ingalls
Best Funny, Gory Horror Novel About Two Women Who Work Really Damn Hard But Never Get Anywhere Because They're Surrounded by Idiot Men: We Sold Our Souls, Grady Hendrix
Best Book About an Angry Woman From a Small Town Solving Crimes: Bonfire, Krysten Ritter
Best Lush, Bleak, Gothic Novel That Did Some Excellent Weird Stuff With the Text on the Page: Ill Will, Dan Chaon
Best Selkie Story With Prose So Delicious I Wanted to Eat It: The Blue Salt Road, Joanne M. Harris
Best Sinister, Haunting Horror That I Read in One Sitting on a Night Train: The Night Visitors, Jenn Ashworth & Richard V. Hirst
Best Dark, Strange Retellings of Fairytales That Gave Me Serious Writer-Envy: The Merry Spinster, Daniel Mallory Ortberg
Best Short Stories That Felt Like a Punch in the Jaw, in the Best Possible Way: Friday Black, Nana Kwame Adjei-Brenyah
Best Short Stories Where I Had to Pause After Each Story Because They Were So Good I Forgot to Breathe While Reading: What It Means When a Man Falls from the Sky, Lesley Nneka Arimah
Best Children's Book With Hidden Depths and Surprising Resonance: Catching Teller Crow, Ambelin Kwaymullina & Ezekiel Kwaymullina
Best Unexpectedly Heartbreaking Children's Book: Fire, Bed, and Bone, Henrietta Branford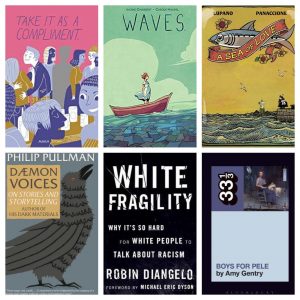 Best Book About Miscarriage and Infertility: Waves, Ingrid Chabbert, Carole Maurel (illustrations)
Best Cute, Funny Old-Person Love Story as a Wordless Graphic Novel: A Sea of Love, Wilfrid Lupano, Grégory Panaccione (illustrator)
Best Urgent, Striking and Deeply Relatable Graphic Novel About Sexual Assault: Take It as a Compliment, Maria Stoian
Best Book That Was So Engrossing I Felt Like I Was Living Inside It: The Electric State, Simon Stålenhag
Best Book About Labyrinths But Also About Greek Myth, the English Midlands, the Colour Red, the Anatomy of the Inner Ear, the Brothers Grimm, and Forests: Red Thread: On Mazes and Labyrinths, Charlotte Higgins
Best Thoughtful, Heartbreaking True Crime Book: This House of Grief, Helen Garner
Best Rebuttal of Straight White Male Bullshit: Tori Amos' Boys for Pele (33⅓ series), Amy Gentry
Best Book That I've Thought About on a Daily Basis Since I Read It: White Fragility: Why It's So Hard for White People to Talk About Racism, Robin DiAngelo
Best Simultaneously Comforting and Challenging Book About Writing: Daemon Voices: Essays on Storytelling, Philip Pullman
What were your favourite books of 2019?
Want to keep up with what I'm reading? Follow me on GoodReads.