Blog
Best Books of 2015

29th Dec 2015 in Books
This year I read 197 books. I tried to do a top 5, or even a top 10, but to be honest 197 books is a LOT of books (I did months of solo travelling and overnights in hotels, meaning lots of reading), and it was too hard to choose. So here is a highly personal, not-very-scientifically-chosen list of my 38 favourites.
Books out in 2015:
Best Twist Ending: Our Endless Numbered Days, Claire Fuller
Best Novel in Second Person: Scorper, Rob Magnuson Smith
Best Can't-Stop-Reading-Once-You've-Started: The Exit, Helen Fitzgerald
Best Warms-Yer-Cockles Novel: Vigilante, Shelley Harris
Best Short Stories About Loneliness: An Account of the Decline of the Great Auk, According to One Who Saw It, Jessie Greengrass
Best Non-Fiction About the Internet: So You've Been Publicly Shamed, Jon Ronson
Best Semi-Autobiographical Novel By A Writer I Did an Event With: Girl At War, Sara Novic
Best Novella: The Lost Art of Sinking, Naomi Booth
Best Novel About Circuses and the Sea: The Book of Speculation, Erika Swyler
Best Book by a Canadian Author: Etta & Otto & Russell & James, Emma Hooper
Best Worldbuilding in a Children's Novel: Lockwood & Co: The Hollow Boy, Jonathan Stroud
Best Worldbuilding in a YA Novel: Ruin & Rising, Leigh Bardugo
Best Mystery Novel About Suffragettes: The Hourglass Factory, Lucy Ribchester
Best Novel About Contemporary Feminist Issues: Fishnet, Kirstin Innes
Best Finnish-Set Horror That I Really Shouldn't Have Read While Staying in a Creepy Attic Room in Finland: The Black Tongue, Marko Hautala
Best Fairytale Parody: Undermajordomo Minor, Patrick deWitt
Books Out Before 2015:
Best Christmas-Themed Horror: NOS4R2, Joe Hill
Best Feminist Dystopia: Only Ever Yours, Louise O'Neill
Best Historical YA About Girls With Their Tongues Cut Out: All the Truth That's in Me, Julie Berry
Best Novel in Short Stories: The Spinning Heart, Donal Ryan
Best Memoir About the Dyatlov Pass Incident: Dead Mountain, Donnie Eichar
Best Novel That Made Me Do Proper Sobbing Gasping Crying: Days of Grace, Catherine Hall
Best Modern Point-Horror Style Horror: Say Her Name, James Dawson
Best Book With No Words: The Arrival, Shaun Tan
Best Poetry/Nature/Social History Crossover: Holloway, Robert Macfarlane, Stanley Donwood & Dan Richards
Best Short Stories About Bears: Bears of England, Mick Jackson
Best Made-Me-Angry Essays: Men Explain Things to Me, Rebecca Solnit
Best Spec-Fic Short Stories: The Poison Eaters, Holly Black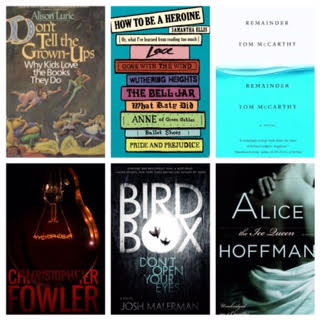 Best Essays About the Strange Personal Lives of Children's Writers: Don't Tell the Grown-Ups, Alison Lurie
Best Memoir About Books: How to be a Heroine, Samantha Ellis
Best Horror With an Unreliable Narrator: Remainder, Tom McCarthy
Best Haunted House Novel: Nyctophobia, Christopher Fowler
Best Sensory-Deprivation Horror: Bird Box, Josh Malerman
Best Book I Wish I'd Written: The Ice Queen, Alice Hoffman
Best Comic Book: Bitch Planet, Kelly Sue DeConnick
Best Classic Children's Book: Skellig, David Almond
Best Book About Selkies: Orkney, Amy Sackville
Best YA Magical Realism: Imaginary Girls, Nova Ren Suma
What were your favourite reads in 2015?