Blog
April/May Reads

31st May 2016 in Books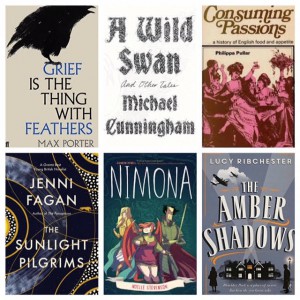 I've somehow managed to read 133 books so far this year (how did that happen? I don't even know). Luckily for me, some of them have been seriously amazing. Here are the best ones of April and May:
Cobwebwalking, Sara Banerjee – A strange, lovely little book that I devoured in a day. Geek Love meets Cold Comfort Farm.
A Wild Swan, Michael Cunningham – Gorgeous retellings of classic fairytales. The prose is so lush I could bathe in it.
The Sunlight Pilgrims, Jenni Fagan – You can read my full review in the Guardian, but in short: I loved it.
Jane Steele, Lyndsay Faye – What if Jane Eyre was a serial killer? The prose is luscious, the setting is vivid, the plot kept me guessing.
The Woman Warrior, Maxine Hong Kingston – This beautiful blending of memoir and fiction is like nothing else I've ever read, and I absolutely adored it.
The Lonely City, Olivia Laing – I read this on a (rather lonely) trip to Germany. Beautifully written, revealing, and great company for a solo traveller.
Grief is the Thing With Feathers, Max Porter – I read this in an hour, then spent the next hour doing happy-sad sobbing. An incredible book.
Consuming Passions: A History of English Food and Appetite, Philippa Pullar – I got about fifty story ideas from this gloriously-written book (and learned several new words).
True Crime Addict, James Renner – I've been reading lots of quality true crime lately, the sort that's less a police procedural or gory description of the murderer, and more a focus on the victim's life. This is an intense, atmospheric read.
The Amber Shadows, Lucy Ribchester – A dreamy, grimy mystery set at Bletchley Park.
Nimona, Noelle Stevenson – Adorable and strange. The best graphic novel I've read in ages.
As a bonus, I want to tell you about a few books I've read and loved that aren't out for a while – get them on your radar now, as they're going to be big:
The Last One, Alexandra Oliva – This book is crazy-addictive, and a fabulous lesson for authors on how to tell a tight, gripping story without the dreaded info-dumping. (out July)
The Comet Seekers, Helen Sedgwick – A brave and tender debut from one of the brightest new stars of the literary world. It's one of the most vivid, original and magical books I've read in years. (out August)
We Eat Our Own, Kea Wilson –  Cannibal Holocaust meets [meats?] Heart of Darkness. It's creepy, enlightening, thoughtful and beautifully written. I can never get enough literary horror, and this is a fantastic example.  (out September)
What are the best books you've read recently? What books are you looking forward to?