Blog:
I read a bunch of books in 2021. Not as many as last year, but probably more than next year (as I now have a baby, a book out in January, and two more to write). I also read advance copies of novels by Heather Parry, Camilla Grudova and Julia Armfield: all due out in 2022, and all highly recommended.
Here are my top 25 books of 2021:
Books out in 2021: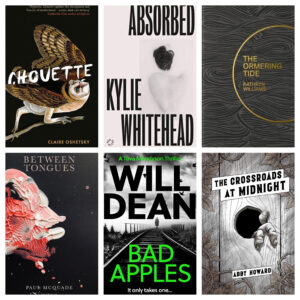 Best book that was so beautifully written I copied my favourite bits into a notebook: The Ormering Tide, Kathryn Williams
Best magical-realist horror about pregnancy and parenthood: Chouette, Claire Oshetsky
Best book that (surprisingly) lived up to its odd premise: Absorbed, Kylie Whitehead
Best short stories about language, queerness and homesickness: Between Tongues, Paul McQuade
Best Halloween vibes: Bad Apples, Will Dean
Best poetry collection about grief and queerness: Butcher, Natasha T. Miller
Best horror graphic novel: The Crossroads at Midnight, Abby Howard
Best book that convinced me of things I didn't know I needed to know (but I'm glad I now do): Laziness Does Not Exist, Devon Price
Books Out Before 2021:
Best kids' book I initially read for nostalgia but then as a metaphor for finding a queer community: Moominland Midwinter, Tove Jansson
Best re-read that makes me want to stop writing because it's too good: Fingersmith, Sarah Waters
Best horror sci-fi novella: The Employees, Olga Ravn (translated by Martin Aitken)
Best thriller set in the world of filmmaking: Pretty As A Picture, Elizabeth Little
Best book about the power of stories: True Story, Kate Reed Petty
Best queer classic: The Love of Good Women, Isabel Miller
Best dark, weird, beautiful poetry inspired by Scottish folklore: Grimoire, Robin Robertson
Best book about internet linguistics which is way more fun and interesting than that sounds: Because Internet, Gretchen McCulloch
Best feminist analysis of horror: Dead Blondes and Bad Mothers, Sady Doyle
Best smart analysis of true crime: Savage Appetites, Rachel Munroe
Best mix of horror film analysis and confessional memoir: House of Psychotic Women, Kier-La Janisse
Best non-fiction written years ago but eerily relevant to now: On Immunity, Eula Biss
Best creative, experimental book about trauma: Notes Made While Falling, Jenn Ashworth
Best book about insomnia I read while feeding a baby at 4am: The Shapeless Unease, Samantha Harvey
Best book that got me out of a reading slump: Shit, Actually, Lindy West
Best folklore-inspired graphic novel set in 1930s Spain: Tales of the Mist, Laura Suárez
Best absolutely batshit 90s horror series read for Teenage Scream podcast: Fear Street Cheerleaders: The First Evil, R.L. Stine
What were your favourite books of 2020?
Want to keep up with what I'm reading? Follow me on GoodReads.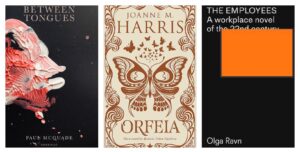 It's a (very) small but perfectly-formed list this time. I'm struggling to focus on reading lately, and I've started many more books than I've finished. Thankfully I found these few beauties, all of which have a short page length but a huge breadth of imagination and ambition. If you're also struggling to get into big chunky books, try one of these small wonders:
Orfeia, Joanne M. Harris –I can't get enough of these folklore-inspired novellas (I also loved A Pocketful of Crows and The Blue Salt Road), and this is a perfect addition to the series.
Between Tongues, Paul McQuade – Elegant, intelligent short stories combining a thoughtful examination of language and characters who feel entirely real.
The Employees, Olga Ravn – A strange, sparse and utterly compelling series of monologues. I've been looking for a decent space horror story for a long time, and this doesn't disappoint.
Want to keep up with what I'm reading? Follow me on GoodReads.
What are the best books you've read recently?
Well, pals, it's been a great few months of reading. I've spent several long afternoons lying out in the shade of my back garden, getting lost in books. And summer is just beginning, so I'm hoping for many more days like that. My top 8 of May and June covers novels, non-fiction, poetry, graphic novels:
Year of Wonders, Geraldine Brooks – I bought this years ago as research for a novel I planned to write about medieval witches in a post-plague landscape. The novel is finished and edited, and I only now got around to reading this book. I shouldn't have waited so long, because it's a real beauty.
The Crossroads at Midnight, Abby Howard – The stories are compelling and genuinely creepy. The panels are clean and uncluttered, but still contain masses of detail about the characters and their world. There's great diversity in the characters in terms of gender, sexuality, ethnicity, economic background and age, but this is never signposted; it's just an organic part of the story, which is great. Horror can definitely do with more diversity. I really can't fault this book – it's my favourite horror graphic novel since Emily Carroll's Through the Woods.
All the Things She Said: Everything I Know About Modern Lesbian and Bi Culture, Daisy Jones – A fun, quick read touching on several aspects of modern queer women's culture.
The Plot, Jean Hanff Korelitz – A pacy, keeps-you-guessing thriller set in the world of books and writing. Other reviewers have said that the beginning is slow, and it is compared to the rest, but I still enjoyed it – mostly because Korelitz is so scathingly accurate about the life of a midlist writer, and that stuff is catnip for me. If you've been looking for a fun, smart, absorbing thriller, this is certainly worth a read.
Laziness Does Not Exist, Devon Price – A genuinely life-changing book. I'm going to re-read this every year – hell, every month – until all its wisdom seeps properly into my brain. This is a must-read for every overachiever who can't shake the feeling that their worth is tied to their productivity.
Grimoire, Robin Robertson – The best poetry collection I've read in years. Themes of violence, madness and retribution; stories of second sight, witches, ghosts, selkies, changelings and doubles. I adored every page.
Tales of the Mist – Laura Suárez – So much to enjoy here! I loved the art style, and there's a great slow-build sense of unease.
Absorbed, Kylie Whitehead – You might think this concept – a woman absorbs her boyfriend – can't be sustained for a whole novel, but I was delighted to find that Kylie Whitehead entirely pulls it off. This novel is unique, beautifully written and… yes, absorbing.
Want to keep up with what I'm reading? Follow me on GoodReads.
What are the best books you've read recently?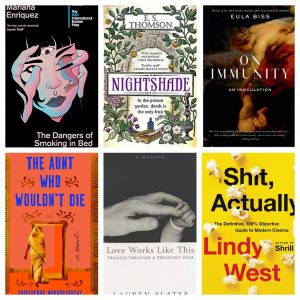 I don't know about you, but I've been struggling to get my reading groove back. This is partly due to bad reasons (pandemic stress) and partly due to good ones (finishing final edits on a new novel). Thankfully I still read some absolute brilliance, and I highly recommend my top six of March and April:
On Immunity, Eula Biss – It's a strange experience reading this during a pandemic, surrounded by vaccine news. It's a thoughtful, informative exploration, and I'm still thinking about it weeks later.
The Dangers of Smoking in Bed, Mariana Enriquez – Rotting little ghosts, heartbeat fetishes, curses and witches and meat: each of these stories is a luscious, bewitching nightmare. Each one builds up a steady, thrilling dread—until the final lines, when the true horror is revealed. I adore this book.
The Aunt Who Wouldn't Die,  Shirshendu Mukhopadhyay – I only borrowed this from the library as it was short and I was intrigued by the title and cover. I expected something light and darkly funny – and while it does have dark humour, it's a lot more complex than I anticipated. Despite the short page count, somehow this had the feel of a multigenerational epic. All the characters felt so real, and I loved the angry, foul-mouthed ghost.

Love Works Like This, Lauren Slater – It's such a treat to find such an honest and raw memoir, and I found this one about ambivalent motherhood fascinating.
Nightshade, E.S. Thomson – I love this series about a queer woman living as a man in Victorian London so that she can continue her work as a pharmacist – and solve murders, of course.
Shit, Actually, Lindy West – You've probably read Lindy West's scathing and hilarious analysis of 'Love, Actually' (if not, get on it), and I'm pleased to report that the rest of the movie analyses in this book are equally funny and equally scathing.
Want to keep up with what I'm reading? Follow me on GoodReads.
What are the best books you've read recently?
It's been a slow reading year for me so far, and I only read about half as many books as I usually would. I'm chalking this up to general 2021 blues as I've struggled to focus on reading, which has been frustrating as books have always been my refuge, my joy, my education and my inspiration.
Still, the books I did read were basically all killer, and if you're also in a bit of a reading slump, I highly recommend any of these to help get you out:
The Last Thing to Burn, Will Dean – An intense, vivid story of survival with an ending that took even this jaded old writer by surprise.
The Mercies, Kiran Millwood Hargrave – This steadily-paced and immersive novel swept me away. I had the pleasure of speaking to Kiran along with poet Rebecca Tamás for Paisley Book Festival; you can watch the conversation on YouTube here.
English Animals, Laura Kaye – I thought I was tired of bisexual love triangles in novels, but Laura Kaye breathes new life into it by showing not the exotic experimentation of the woman at the centre, but the grief and betrayal of being used as an experiment.
Because Internet, Gretchen McCulloch – A deep-dive into internet culture and language; this book is a joy from beginning to end, and is fascinating even if you think you're not into linguistics.
The Love of Good Women, Isabel Miller – A classic queer text with beautiful prose and vivid characters.
Butcher, Natasha T. Miller – Such a beautiful, readable collection, touching on experiences of grief and loss, Black lives, and being a queer woman (and being a queer, Black woman experiencing grief).
Savage Appetites, Rachel Monroe – A new type of true crime, and one I'd love to read more of. I don't even care what Rachel Monroe writes about next; I'm reading it.
Trysting, Emmanuelle Pagano – I read this over several months, as it's the sort of book that rewards reading in small bites. Hundreds of tiny, perfect love stories.
Fingersmith, Sarah Waters – A re-read of one of my favourites. Even though I know what happens, it's incredible to see the plot twists unfold. I've read this book three times and I still don't know how Sarah Waters managed this narrative magic trick!
Want to keep up with what I'm reading? Follow me on GoodReads.
What are the best books you've read recently?