Blog: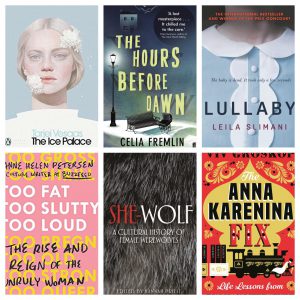 I've absolutely devoured books over the past two months – 47 of them, to be exact! Quite a few were non-fiction books as research for my next book, and a few more were Point Horror re-reads for my new podcast, Teenage Scream. Luckily I did have time to read some quality fiction and non-fiction among all that. And, just like last month, it's an almost entirely female list!
Why I'm No Longer Talking to White People About Race, Reni Eddo-Lodge – Vital reading for every single person in the UK (and elsewhere). Even if white people like to think we're woke, there's so much we don't know. Reading this is Step 1 in our education. I wish it had been longer, but I will consider it a starter book for further reading.
The Hours Before Dawn, Celia Fremlin – This book was an unexpected delight. I'd never heard of the book or the author, but I saw it in the library and liked the title so gave it a go. It was claustrophobic and stifling and tense, while also being quite slow-paced and immersive. Not much happens plot-wise, but it does examine new motherhood and the weight of domesticity really well. Also the prose is beautiful. I'd love to read more Celia Fremlin novels.
The Anna Karenina Fix, Viv Groskop – I loved this book. It manages to be intelligent, inspiring and funny all at the same time, while also making me want to read Russian novels.
Brave, Rose McGowan – A quick, brutal, inspiring read.
Too Fat, Too Slutty, Too Loud, Anne Helen Petersen – I seem to be going through all the feminism pop culture essay books. Just can't get enough of them. There's some really interesting stuff here on Serena Williams, Nicki Minaj and Hillary Clinton in particular. Also made me think more deeply about Caitlin Jenner, Lena Dunham and Kim Kardashian, which is a sentence I didn't think I'd ever write.
She-Wolf: A Cultural History of Female Werewolves – Hannah Priest (editor) – This one was for novel research, but I also enjoyed it just as a reader. I devoured it over a wonderful afternoon spend at the Wellcome Collection library, one of my favourite places to read.
Lullaby, Leïla Slimani (translated by Sam Taylor) – A tense and beautifully-written domestic thriller that really digs down into issues of class and money.
La Grande Thérèse, Hilary Spurling – I loved this non-fiction story and immediately want to write a novel about it. The length was perfect, in my opinion – I find many books to be longer than they need to be, but I breezed through this one in an hour while having a coffee. This book provides a well-written and well-researched overview of a fascinating story. I wish more books had this wealth of detail and economy of story.
The Ice Palace, Tarjei Vesaas (translated by Elizabeth Rokkan) – A strange, sparse and atmospheric novel. I'm not sure I entirely understood it, but it's been creeping around in my mind and I can't seem to shake it.
Want to keep up with what I'm reading? Follow me on GoodReads. 
What are the best books you've read recently?
When you're struggling with internal forces like depression or grief, or external forces like caring for a child or dependent adult, it can seem impossible to focus on creative work. So sit down, take a deep breath, and let four creative people share their experiences on working through the difficult times.
It's okay to take a break.
"My sister was seriously ill, and my concentration was just shot," says author Valerie O'Riordan. Rather than getting stressed, Valerie advises taking some time out. "When I didn't get any writing done on a given day, I told myself to relax – the world wasn't going to crash to a halt and I could always work tomorrow."
"If I really can't work, I stop," says Beatrice Colin, author of four novels including The Luminous Life of Lilly Aphrodite (John Murray, 2008). "I go to bed, read or go for a swim. Creativity has to be nurtured."
It's okay to change your methods or expectations.
Valerie, who is a new mother as well as a prizewinning writer, suggests grabbing short bursts of time whenever possible. "In the past, I was able to write for hours, but now days go by where I get very little done. Everything slows. But you just have to push on through regardless."
After a family tragedy, writer and editor Mercedes Yardley found it almost impossible to work. "I was pregnant with triplets and lost two of the babies. The grief seemed enormous." Mercedes advises being kind to yourself. "When I realised how much I was struggling, I asked for extensions on my deadlines. Writing still isn't coming easily, but I'm chipping away at it."
It's okay to take small steps.
"Forget about the big picture," says Michael Nobbs, author of Sustainably Creative, a blog and mailing list about how to keep working creatively despite extremely low energy. "We all need a goal, but once we know what it is, it's better to stop thinking about how to get there. Drawing my breakfast yesterday, I just thought about the next poppy seed – drawing a whole bagel just felt too much!"
It's okay to learn from the experience.
"It may not feel like it at the time but an experience like losing someone you love makes you see the world, and everyone in it, in a slightly different way," says Beatrice. "I lost my brother and, looking back, there are a lot of invisible, but loved, people in my work. I wouldn't choose it but it had, for me at least, a positive effect."
Mercedes agrees. "Despite it all, I am a writer. It's how I process. If I gave it up completely during the difficult times, I'd be robbing myself of my most effective coping mechanism. No matter how gruelling the situation, remember that you are an artist. It's who you are. Allow the gift of creativity to help you through the difficult times. Sometimes the only way out is through."
It's okay to work at your own pace.
"There's nothing wrong with taking a rest," says Valerie. "If you're at the start of your career – whatever your age – remember that it's not a race. You've got decades ahead of you. Keep healthy. Keep strong. You'll get back into it. Your creativity isn't going anywhere."
(Originally published at IdeasTap)
We all know that networking is vital to furthering your writing career: making contacts, giving a good impression, getting your business card into the right hands. We also know that networking can be scary – how can we come across as confident but not conceited, ambitious but not cut-throat? Well, I'll tell you! When I was a little girl my mother had very particular rules for birthday parties, and these exact same rules can be applied to networking as a writer. By remembering what your mother taught you, you'll be working that room in no time.
1. Don't just talk to your friends
It's easy to lurk in the corner and chat to your friends, but you could have stayed at home to do that. Get across the room and
introduce yourself to someone! An excellent conversation opener is 'What are you working on?' Not everyone wants to be defined by their day job, but everyone likes to talk about their plans and passions. Don't monopolise anyone's time – just introduce yourself, listen carefully to what they have to say, give them your card if it's appropriate, and say it was great to meet them. Don't forget to smile!
2. Don't just talk to the popular kids
If you head straight for the biggest bigwig in the room and ignore everyone else, you'll seem cynical and self-serving. Take time to chat to everyone, and show them the same amount of attention and interest. In a business sense, you never know who can help you in your career; in a personal sense, everyone has interesting things to say and you might make a new friend! This holds true for online networking too. If you get a nice email from a name you don't recognise, don't ever write them off as a 'nobody'. Give them your time and your personality, just as you would if they were a hot-shot agent or editor.
3. Don't be mean
So you think someone in the room is boring, silly, self-absorbed or a bad writer. Keep it to yourself! If you must, wait until you get home and vent to your partner or friends – but best of all, just work through those negative feelings until they're gone. Don't ever be bitchy about other people on the writing scene in public – you'll develop a reputation and people won't want to work with you. Stay polite and friendly in public at all times.
4. Send thankyou cards
You've made an effort to remember everyone's names, right? Now get online and look them up. Google, Facebook, Twitter: they'll be out there somewhere. Say hello, remind them who you are, mention something about their interests, and say it was nice to meet them. Don't forget a link to your website in your signature so they can read about your achievements.
Pretend it's your eighth birthday party, and get networking!
Your novel is brilliant – but how can you convince an agent when they already have hundreds of unpublished manuscripts avalanching on their desk? You have to entice them into reading your novel, but it's tricky to walk the line between interesting and insane. Luckily, there is a standard format for agent queries – and it's a little like a covering letter for a job application.
A query is a one-page letter introducing you and your book, and all agents require them. The three words to keep in mind are: professional, interesting and concise. First of all, make sure that you're contacting the agent in their preferred manner – some like an introductory email with no attachments, and some like a letter, synopsis and first three chapters send through the post. You can find this information on the agent's website or the latest Writer's and Artist's Yearbook.
Now, on with the letter. It consists of three paragraphs: the intro, the mini-synopsis, and the bio. The goal is to get the agent to read your book, not to show off how quirky and non-mainstream you are. Your novel can be as offbeat as you like, but your query letter must be professional.
Paragraph 1: The Intro
The very first things the agent wants to know are: title, genre, and word-count. For example:
"I hope that you will consider my 70,000-word literary novel, I HEART UNICORNS."
Or:
"Please find enclosed the first three chapters of my 90,000-word crime thriller, PISTOLAS Y CHICAS."
If you've met the agent in person or had them personally recommended to you by one of their clients, mention this here.
Paragraph 2: The Mini-Synopsis
This is the trickiest part, as you have to distill your entire 300-page novel to one tiny paragraph. It's impossible to mention every aspect of your protagonist's personality, every event, every charmingly odd side-character – mention just enough to give a flavour of the novel. When you see a film and a friend asks what it's about, how do you answer? Use that same brevity, and figure out what's really important in your story. Read the cover blurbs of your favourite books to see how the setting, characters and conflict are all described in a single paragraph.
There's no shortcut here. You just have to sit down and brainstorm onto the page, then afterwards trim, revise, reshape and try it all again. It's best to run this by a few friends, so that when they reply "but why would the astronaut want to own a turkey farm?" you'll know that your description needs to be clearer.
Paragraph 3: Your bio
Mention any publications you have, any awards you've won, and any literature-related qualifications you've earned. It's okay to mention your age, location and occupation (if you want to), but only mention other details about your personal life if they're relevant to the story – say it's about Hungarian immigrants and your parents emigrated from Hungary, or it's about rare birds and you're an ornithologist.
And that's it! End your letter by thanking the agent for their time and attention, and don't forget to include your contact information.
There are two main ways to get an agent: get them to request your writing, or send it unsolicited.
Getting Solicited
First of all, says agent and author Nathan Bransford, "If you are trying to find an agent and you are not a) a celebrity or b) a deity, you will need to have a finished and polished manuscript." Whether it's a novel or a collection of short stories, it must be complete before you start querying. If the agent likes your work they will want to see the full manuscript, and it's unprofessional to keep them waiting.
Next, get into the literary world. Read blogs by agents and published writers, and attend writing conferences and networking events. Nathan says: "If you do this before you try to find an agent your odds of success will increase dramatically, because you will ooze professionalism and knowledge, qualities that bode well for future successful writers."
If you write short fiction, enter your best work into high-profile contests with large prizes, like the Bridport Prize or the Bristol Prize. The contest organisers send the winners' anthology to several top London agencies, so even if you don't win first prize it's a great way to get your work in front of agents.
When agents start getting in touch, always stay professional. And be patient – agents can take up to three months to read a manuscript.
Sending Unsolicited
If your inbox is still strangely empty, or you're just not keen on the agents who've approached you, it's time to query.
Again, the first step is to do your research. Check that the agent handles the type of manuscript you want to send (ie. if they only represent science fiction, they won't want your crime novel no matter how good it is). Hannah Westland, an agent with Rogers, Coleridge and White, advises that query letters should be personalised for each agent. "If the agent has similar interests to you, or have represented writers you like, then make reference to that when you approach. People want to feel like you're not just sending the same standard letter to 100 agents."
Always follow the submission guidelines on the agency's website, but if they don't list specifics then stick to the standard: black text on white paper, double-spaced, size 12 Times New Roman. First approaches are usually through email, and if the agent requests a physical manuscript then use good-quality A4 paper. Attach sufficient postage – the agency won't pay the excess fees.
"A covering letter is very important," says Cathryn Summerhayes, an agent with Curtis Brown, "but keep it shortish and to the point – no more than a page. A brief synopsis is always welcome but not pages of description – think of the blurbs you see on the back of books." (More advice and a query letter template here.)
Most important of all, be persistent. Many authors query dozens of different agents before getting a response, so don't let rejection get you down – keep sending your manuscript out until you find an agent who loves it.
(Originally published at IdeasTap)