The Top Ten Best Free Things For a Skint January (With Bonus #11)
January is nobody's favourite month. I don't know about where you are, but here in Scotland it's cold, it's dark, and our wallets are now as empty as our Christmas stockings.
So, if you're as skint as I am, feast your eyes on the riches of this Top 10 (plus bonus #11) list I made, just for you. They're all brilliant, and they're all free.
Confession time: I have a love for spin-off novels, particularly metafictional ones. By that I mean novels that don't exist, but are mentioned in a film, TV show, or book as if they do exist. Think of the novels by Richard Castle in the TV show Castle. Sometimes, these novels are then written, and they do become real, and then I like to read them. The thing is, I only like it if they spin off something I haven't seen or read.
For example, The Diary of Ellen Rimbauer, the diary of a character in Stephen King's novel Rose Red (which I haven't read). Or Guillermo del Toro's Don't Be Afraid of the Dark, the illustrated journal of the protagonist of his film of the same name (which I haven't seen). Or The Diary of Laura Palmer, a fictional diary of the dead girl whose murder is investigated in Twin Peaks (which I hadn't seen when I read the book, which was a bit stupid as it gives away the ending).
So why on earth would someone want to read a spin-off that fills in the gaps something they haven't even seen? Well, because I like the gaps. I love mythologies and backstory and imaginary worlds. Of course, good books don't spend a lot of time info-dumping stuff about the backstory and world. Good books also don't have a lot of gaps, because a satisfying story generally answers most of a reader's questions. But sometimes I like gaps. I like when a book leaves space for me, as a reader and writer, to create part of the story myself.
And now I get to the real reason for this post: I want more metafictional spin-offs. I don't care if they're based on books, films, comics, games, or any other type of story – I just want more of them! Any recommendations much appreciated.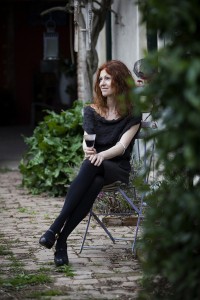 On Thursdays, I invite my favourite writers to share the inspirations behind their work. Here's one from short story writer Catherine McNamara.
The Story:
'Pelt', first published in Pretext magazine, is the title story of the collection Pelt and Other Stories (Indigo Dreams Publishing, 2013).
An Extract:
Rolfe triggers it. In the way that is the way of all men. In his case a type of athletic bragging ruined by the self-defeat he hangs his hat on. I feel a plock and, with his surprised, involuntary retreat my waters come splashing out, gay and heralding, whereby he bounds back to inspect the folds of his manhood.
My abroni baby will come this day. I roll onto my back and raise my knees in sweet excitement, the baby nestling down even though her head is plugged within my pelvis. Soon after Rolfe is agitating with a towel, peering cautiously at my dark opening. No action there, I laugh. He looks perplexed. Despite his thirty-nine years Rolfe is unfamiliar with the mulch of his own body. A fever sends him into studied ecstasy. The tumble worm in his butt, whose head and long wrinkled body I inch into the light, is repellent and edifying.
At the apex of this growth curve I suspect I place myself. This is the man who continues to daub his hands on my sheeny back and breasts. He told me that in Ethiopia, his last posting, they call girls like me 'slaves' because of our broad noses and skin a shadow cannot cross.
This is Rolfe's first child. His wife Karina was barren. I have led Rolfe to believe that this is my first although I had two others before. They are at the village and I send them money. The midwife will no doubt perceive all of this.
At BookTalk, I discussed death, autobiography, licking batteries, and what makes a fairytale.