Thievery: Telopsis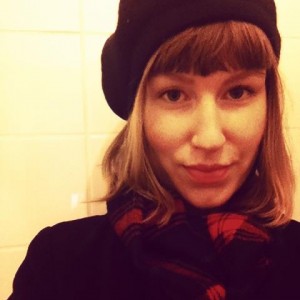 On Thursdays, I invite my favourite writers to share the inspirations behind their work. Here's one from the enviably badass Sophie Mackintosh.
The Story:
"Just handling the matches – just the eye-watering thought of the brightness as it fizzes upwards, the smell sharp in my nostrils – makes me hungry for light. And then I am searching wildly for something to create it, my hands running over every surface of the room, hip thudding dully against my chest of drawers – there must be something I think wildly, anything –
My hands fall upon a nail file. I scrape it against the iron bedstead as though whetting a knife, again and again, and see a dull spark. The noise runs through my teeth, but I carry on. Flickers hint through the darkness, tiny scraps, curls of shaved foil –
More. More. My hands search, restlessly, again, find a hairbrush, and I lurch as though drunk over to where I know the mirror is and I put my palms against the metal and brush my hair over and over and over until the fine strands buzz and stand up and threads of electric run up and down the length of it, my hair clinging to the nape of my neck, to my hands – when I lift them up over my head I see the pinpricks of light at the crown of my head, but it's not enough, it's never enough, but it's something –
Breathe. Madame's face swims in front of my eyes, and I picture being chained up outside through the iciness of the Arctic night. Oh, she would be so disappointed in me if she knew, quietly damning. You of all people."
On Saturday 21 September, 50 emerging novelists were treated to talks and one-on-one sessions with agents and editors at Pitch Live!, organised by NAWE and Creative Scotland.
The publishing experts offered valuable advice on writing cover letters, elevator pitches, and how to properly begin and build your writing career. I live-tweeted with #pitchlive – but don't worry if you missed it, because here are the highlights.
Francis Bickmore, Publishing Director at Canongate Books:
(Follow Francis @kinhead)
Follow your curiosity. If you're bored writing it, readers won't even get past the first chapter.
Researching historical detail isn't as important as exploring your heart and mind – the human story grips the reader.
Find someone who will give you honest advice.
As the saying goes: the hair shines with brushing. Edit, edit, edit. If it's not vital to the story, cut it.
Remember that publishers aren't charities. They have to be sustainable businesses. No one is entitled to be published.
In a cover letter, don't be apologetic about yourself. Present yourself as a writer. Have confidence.
A pitch letter is not a place for rhetoric. Always start with the story.
Don't say 'I've written the next Harry Potter', but do present some titles similar to your book for comparison.
Presenting a question or a moral quandary can work well in a pitch.
Remember to include your email and phone number, not just an address – if the agent or editor loves your book they'll want to get in touch immediately.
In your pitch, your personal circumstances don't matter – just mention any writing experience such as prizes or publications.
Social networking can be counterproductive if it's forced. Do what you're comfortable with.
Writing is a solitary pursuit. Find your community for feedback, and to commiserate and celebrate with.
Don't expect success instantly. And if it doesn't happen instantly, don't write off your book. Timing is vital.
Give out but don't give up. Maybe you just haven't found the right editor for your book yet.
The book trade favours easy pitches, but the books I'll remember on my deathbed are the unusual, unprecedented ones.
Oliver Munson, Literary Agent at A.M. Heath:
(Follow Oliver @OliAgent)
When pitching face-to-face, be concise, confident and quick. Don't back an agent into a corner and bore them for 20 minutes!
Most books can be pitched in several different ways. Choose the angle best suited to the person you're approaching.
The problem with self-publishing is our desire for instant gratification. There's benefit in getting feedback and steady editing.
Describing your book as 'literary' doesn't tell us much about the book – only how good you think it is. You don't walk into a bookshop and go to the Literary section, so it's not particularly useful to state it as the genre.
The X meets X formula is fine, but you must express what your book is about on its own terms, free of comparison.
Agents sit at the crossroads of creativity and commercialisation. I need a great book that I can talk about easily.
Jenny Brown, Literary Agent at Jenny Brown Associates
(Follow Jenny @AgentJenny)
My advice to people who want to self-publish is to get a freelance editor.
About a third of the books I've taken on have changed title during the publication process.
If you try to follow a trend, it will be over by the time your book is finished.
Adrian Searle, Publisher at Freight Books:
(Follow Adrian @DesignandBooks and @FreightBooks)
The book is what matters, but the pitch is what makes you pick it out of the pile of manuscripts.
Clare Hey, Senior Commissioning Editor at Simon & Schuster:
(Follow Clare @Clareaux)
I want stories that transcend genre – a book I can recommend to anyone. Those books are few and far between.
Great storytelling is at the heart of everything I edit, irrespective of genre.
Be polite, be patient – and don't ever add an editor's email address to your own promotional mailing list!
If an agent can't be bothered to phone me, they're not that excited about the book. If they phone, I pay attention.
Your pitch has to bear repeating. Editors will have to say it over and over at sales and publicity meetings – and then to sell it to readers.
If you've written in multiple genres, think about where you want your career to go and focus on that first.
It's ideal if each of your books can be entirely original, but will appeal to the same readership.
Launching a debut novel takes a lot of time and effort. Editors want it to be the start of a long career.
Don't be downhearted if your book is not immediately picked up. If it's a good book, you'll find the right editor eventually.
Thinking of applying for the 2012 New Writers Awards from the Scottish Book Trust? BLOODY GREAT.
Not only will you get a grant of £2,000, training in press, PR and performance, and a mentorship with an experienced person in the literary world, you will also get a week-long writing retreat at Cove Park. The only way it could be better is if the award could make you coffee every morning too.
I honestly can't recommend this award enough: I won in 2009 and I continue to be amazed by the support and enthusiasm of everyone at the Scottish Book Trust. They're a fabulous lot of folk and, as a new writer, you definitely want them in your corner.
Caitrin Armstrong, Writer Development Manager for the Scottish Book Trust, offers these wise words for applicants: 
Don't: Tell us this is the best book that has ever been written and nobody has ever written anything like it. It isn't (at least not yet) and they have.
Don't: Include the line 'I was born to write'. This is a cliché, and I was born to dislike clichés. Getting the tone of a letter right is tough, but a simple rule of thumb is to aim for enthusiastic rather than arrogant.
Don't: Try to sneak in more. It is late at night, I have been reading applications every spare minute of the day, and I need to read just one more to stay on track. I pick up your application: it exceeds the word-limit, it is single spaced and in a tiny font which means it will take me twice as long to read it. The fact that the extra material rounds up the story nicely does not add to your chances of success.
Don't: Include links to your blog, ebook etc. I will not read these. Ever.
Do: Read and follow the guidelines and meet the deadline. It may not be very exciting, but it is important.
Do: Be clear and concise in your statement and writing achievements. There should never be any danger of a panel member missing vital information about you. Short sentences are your friends.
Do: Give it a shot! Most participants are genuinely surprised that they have been selected, and several have tried quite a few times before making it on to the awards. We change our panel members every year so there's always a chance that someone will appreciate your work. And the odds are much, much better than the Lottery.
—
Reckon you're ready to apply? Go for it! And if you need to ask anything about the awards, get in touch with the Scottish Book Trust or leave your question here as a comment.
This summer I'll be teaching a couple of one-day classes at Glasgow University DACE. Hope to see you there!
How to Get a Literary Agent
So you've written a novel – now what? It can be hard to catch a literary agent's eye, but this one-day course will show how to best represent yourself and your writing to find the best agent for you. Guidance will be provided on agent research, cover letters, follow-up etiquette, and more. Don't worry if you haven't yet completed your novel – it's good to plan in advance!
Tuesday 26th June, 10.00-16.00, £23
Course Y311 
Flights of Fantasy: Using Myths, Legends and Fairytales in Your Fiction
Love myths, legends and fairytales? Want to write fiction? These classic tales provides the perfect basis for telling fresh, original stories that readers can relate to. In this one-day course you'll learn how to twist a classic tale to suit your own unique style and voice. The class is friendly, informal and supportive – bring along your favourite story and hear some brand new tales.
Tuesday 3rd July 2012, 10.00-16.00, £23
Course code:Y312
To enrol on either course, call 0141 330 1860 or 0141 330 1853 between 10.00am and 4.30pm Monday to Friday.
If you have any questions on the courses, feel free to email me.
What do Neil Gaiman, Ali Smith, Nick Cave, and Margaret Atwood have in common? Stolen Stories!
Stolen Stories is a 10-week evening class at Glasgow University on using mythology, fairy tales, history, and classic literature to create original fiction.
Classes begin on the 14th of January, and run 7pm-9pm on Thursdays. The cost is £75 for the 10-week course. If you have any questions, please email me.