Birthday Wishes
Today I turn 28. Happy birthday to me! I wouldn't expect you to get me a present, but if you happen to have a couple of quid kicking about then I'd love for you to send it to one of these fine places: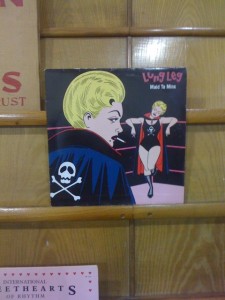 The Glasgow Women's Library – Oh, how I love the Women's Library. It's the only resource of its kind in Scotland, with a brilliant lending library and a treasure trove of historical and contemporary artifacts and archive materials that celebrate the lives, histories and achievements of women. My personal favourites are the 1950s Vogues and the luchadoras record sleeves.
Radiolab – My all-time favourite podcast, full of fascinating nerdy things that even a science-dunce like me can understand.
Duotrope – A fantastic resource for writers, with thousands of listings, contents and submission stats. And it's all free! They work hard and deserve our support.
Lambda Literary – For LGBT readers, writers, publishers, editors, librarians, booksellers and the entire LGBT literary community. I love their newsletter, and I always find something new I want to read on the site.
Or if you like, ignore them and make a donation to your favourite charity or organisation. I promise it will make you feel good!
This weekend I made a cover for my Kindle out of an old hardback copy of Le Petit Prince (or The Little Prince, as it's an English translation):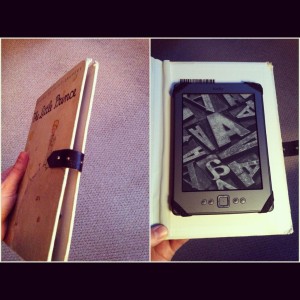 It fastens with a popper on a leather strap, and the Kindle is held in with elasticated loops at each corner. It's not exactly professional-looking (the barcode on the book's inside cover is still visible!), but I'm proud of it.
I also made tea lights out of jam-jars and an old duvet cover (and then little matching ornaments out of the same fabric and the jam jar lids), and a wreath out of wool with some spare buttons and a charm that fell off an old handbag:
Lots of crafty things, and all free! Well, I've got to do something while I'm procrastinating on my novel edits…
I wrote a 78,000-word novel in six months. The following month, I signed with an agent. Then I started on the edits. And now I've stopped.
Seriously. I've just stopped. I don't know what happened to all that momentum, but I will now do literally anything other than edit my novel. My days are spent researching, writing articles, teaching classes, doing readings – not time-wasting, but not novel-editing either. And if I'm honest, I'm mostly doing those other things so that I don't have to edit. Now I feel faintly sick every time I think about clicking on the novel's Word file.
So what's happened? Is it fear of failure, or fear of success? Or a bit of both?
I think it's that it feels too real. When I was writing the novel I did, of course, hope that someday other people would read it. Now I now that the next thing I write will be read by my agent – a professional, a person who reads the work of dozens of wannabe novelists every day. Even scarier, she'll then send it out to – oh good god! – editors. It cripples me to think that the sentence I just wrote (the one I'm sure is so imperfect, so clunky, so self-conscious) could one day be read by strangers.
I knew it would be a struggle to get an agent, to get a publishing deal, to get reviews, to get readers. But then the first draft and the agent part seemed to happen fairly easily. So what if the rest of it is that easy? And what if it isn't? What if I stumble right off the starting block? Far better to just feel pleased with my achievements so far, and never have to find out whether I can really succeed.
Except that's bullshit. I know it is. I might have some potential, but that's useless if it stays unfulfilled. I know exactly what I have to do: stop being a fucking wuss and just get down the the grown-up business of editing.
Knowing something isn't the same as being able to do it, though – so here I am, writing a blog post about how I'm scared of ending up as a failure or a success, instead of moving a step closer to seeing which one it will be. So this is what I ask of you: give me a good, hard kick up the arse and tell me to get back to my bloody edits.
March is already shaping up to be a slippery little fiend of a month – and I'm sure I will enjoy every moment of it. Join me…
I'm in Edinburgh!
1st March: See Edinburgh's beautiful buildings lit up with famous quotes as part of enLIGHTen. Download my story 'Sleep Pictures' then get yourself down to the Roxburghe Hotel at Charlotte Square to have a listen.
I'm in Glasgow!
4th March: Don't miss Words Per Minute's Feminisms special, featuring novelists Helen Fitzgerald and Jessica Gregson, new writing from Amber Sparks and Suzanne Egerton, live music from Two Wings and Doves of Disorder. It'll be braw.
I'm in London!
6th March: Pop down to the Queen of Hoxton at 7pm to hear me read at The Special Relationship. I'll be joined by the fabulous Katy Darby, author of The Whore's Asylum.
I'm in Glasgow Again!
8th March: Draw, listen, talk, laugh, think, create, observe, learn, share as we celebrate the one hundred and first year of International Women's Day, and the end of a year-long community project raising money for 5 women's charities. I'll be reading with fellow lady-writers Helen Sedgwick and Kirstin Innes.
I'm in Copenhagen!
23rd March: I'll be reading at Copenhagen Central Library at 4pm along with the wonderful writers Allan Wilson, Raman Mundair and William Letford.
And somewhere in the middle of all that, it's my 28th birthday. Phew. After all that, I will most definitely need a sit-down, a cup of tea, and several handfuls of biscuits.
I love resolutions, and sometimes I even stick to them. I reckon everyone could take the time to sit down and think of a new things they'd like to do differently in 2012. Even if we don't fully achieve these goals, it's good to feel like we're moving in the right direction.
My ambitions are not grand, I know. I'm happy with the way my life is at the moment, so I don't feel the need to try for any huge changes – but there are always things that can be worked on! Here are my resolutions:
Stand up straight.
Spend one Sunday per month lying in bed, reading books and watching films.
Practise grace, kindness, and passion in all things.
What would you like to do differently in 2012?